londonprintstudio Comics Collective
(that's me,
Abraham Christie
,
Jade Sarson
,
Merlin Evans
,
Shamisa Devorey
and
Susan Yan Mach
) were at
COMIKET
on 12th November, promoting the
free comics workshops
we're running for 16-20-year-olds over the next few months.
Our mentor,
Karrie Fransman
, was there too and totally did a live drawing performance with a big screen up on stage. We also got to meet some of our predecessors from last year's comic internship -
William Goldsmith
,
Joe Kelly
and
Isabel Greenberg
...
(Thank-you to Susan and
Sarah McIntyre
for the photos)...
Karrie taking part in the COMKET Drawing Parade.
Left to right: Me, Jade and Abe!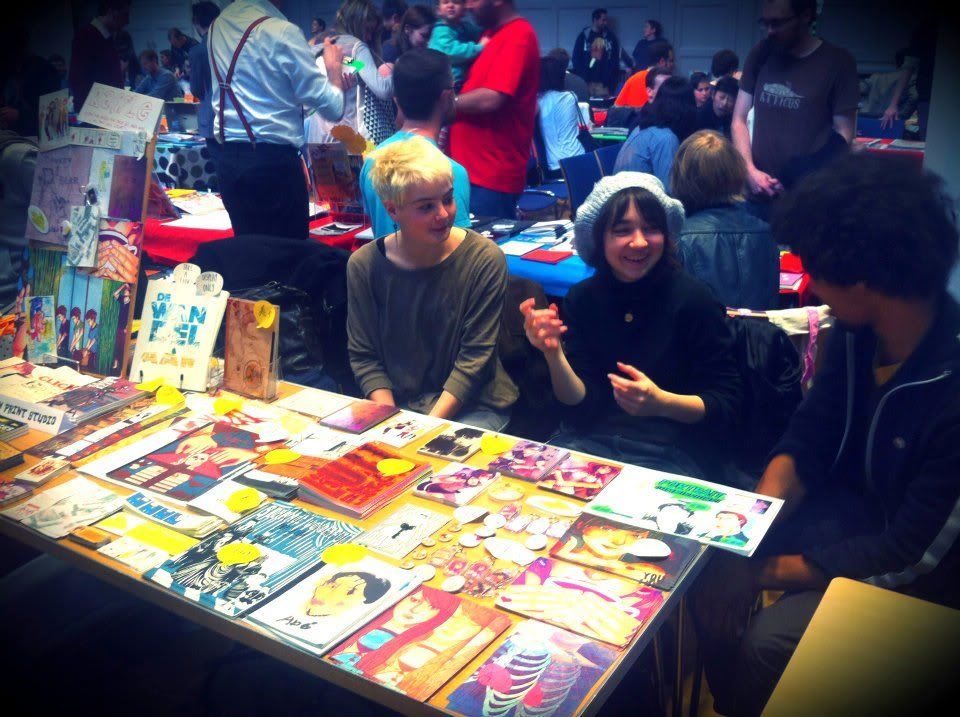 ...
We also designed a cover for this year's comics anthology, "Parallel Lives", this week, which we will be releasing Spring 2012, featuring selected work from those who take part in the comics workshops & each of the 6 comic interns. The cover design also features drawings from each of us - inadvertently mirroring the design of the blog header/workshop flyers? (It's blue, too!) If you're between the ages of 16-20 and are interested in being a part of the anthology, click
here
for more info....
Thank-you to everyone who helped put the cover together, especially Shamisa for doing the colours and Jade for designing & executing the lettering - both put loads of work into finalising everything digitally.
Oh yeah, here are sketches from my drawing for the cover design! In two different pen thicknesses, no less!